As a homeowner, one of your typical outings may be to your local hardware store. You can spend hours strolling up and down the aisles, dreaming of ways to update your home.
Chances are, whatever you look at, there's a way to make it even better with technology. Smart home devices are the rage, with almost everything being able to be connected, to help you make better choices for how you use it, and be more efficient in the process.
What are the best smart home devices to consider right now? These are a few of our favorites.
Smart light bulbs – one of the simplest things in your home also provides you with one of the easiest ways to make improvements. Smart lighting gives you the option to control all of your lighting at the touch of a bottom. Or hook it to your phone or virtual personal assistant, and you can do it all via voice command. What's even better, the latest technology saves energy in the process. If you replace all of your bulbs throughout, they'll last longer than ever before, and will be a lot less expensive to keep in operation. Smart light bulbs can really make a difference in every room in your home.
Smart thermostats – we love these little devices for so many reasons. The biggest is the potential for cost savings. How many times have you arrived at your destination, only to remember you forget to adjust the temperature? Your home sits toasty warm all day while you're at work. No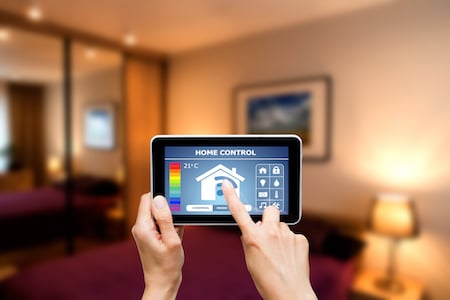 longer if you have smart controls. You can adjust the temperature at a touch of a button through your phone. What's more, smart thermostats can also learn by your behavior. They will adjust automatically based on your normal routine.
Smart water heaters – some of your most well used home appliances are also the ones that have remained unchanged for decades. The water heater is a perfect example. Many homes throughout Colorado still rely on traditional tank water heaters to heat their water. If you upgrade to smart technology, it can be connected to your phone, tablet, or virtual personal assistant to provide you with energy saving ability.
Smart plugs – do you know where the highest energy leaks are in your home? Most homeowners don't. But that's changing, thanks to smart plugs. These little adapters can be installed anywhere between the power socket and an appliance. It can turn gadgets on and off depending on usage. That can allow you to control your electronics from your phone or tablet, as well as monitor use to show you where your power hogs really are. It can also help identify any warning signs of problems with your electrical system, giving you ample time to make corrections before a problem arises.
Of course, there are many other ways for you to update your home and make it more friendly for the environment. If you're looking for ways to automate and save money in the process, give us a call today. We can provide you with an energy audit, and show you exactly how easy it is to make lasting changes throughout your home.